Running Out #keto
This is a continuation of the keto journey. Previous articles:
This update comes at a time a little earlier than planned, but I have quite a bit to update about and it's better to do it now rather than later - whilst it's still fresh in the mind.
Diet progress update: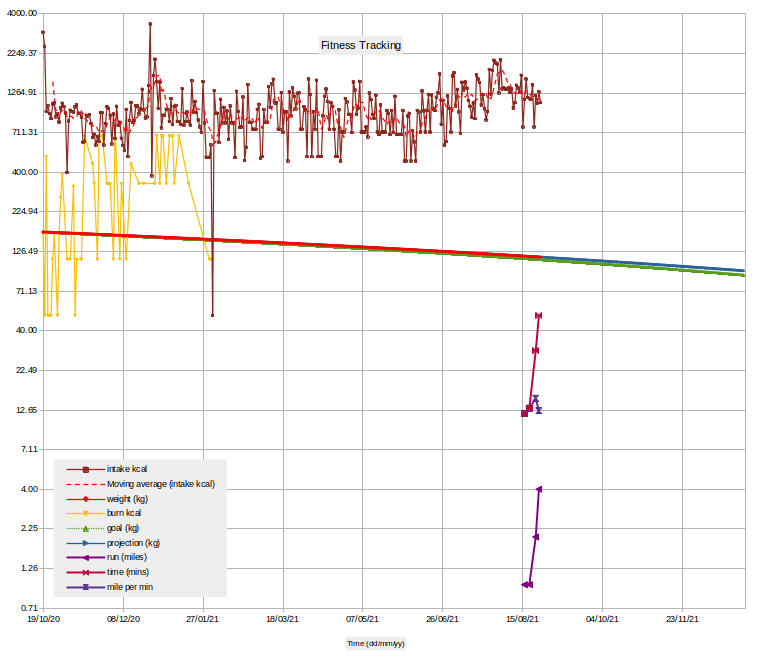 I added some lines to measure running progress in the form of 'run (miles)', 'time (mins)' and 'miles per min'. Over time, I want to increase my run distance, gradually reduce my time spent running, but also increase my pace. I'll speak more on this later.
I've also added an additional blue line, which is the 'projection (kg)'. It simply uses the current burn rate to figure out whether I am projected to meet my target or not. This is useful for figuring out whether I will reach my goals or not and to detect problems early.
Weight loss is still as hard as ever to track, despite having lost a lot of weight the scales are very difficult to accurately judge. With my weight generally fluctuating +/- 5kg depending on water, time, meals, etc. I currently have it as ~117kg, but this could be 112kg or 122kg depending on when it is measured.
The thing is - I'm not exactly acting badly on this diet. There isn't too much left to adjust without making large changes, that will be extremely difficult to adjust to.
From the last update:
My goal is generally to get this back down to about the 750 - 1000 kcal range.
My average intake is now below 1200 kcal and is still in steady decline. It's still above the 1000 kcal goal I set myself, but it's better to move slowly on this rather than act too quickly and make my diet unmaintainable. As I will discuss later, my exercise has also stepped up during this time, so those few extra calories are unlikely to do real damage to progress.
I'm generally happy with my progress and plan to continue to gradually reduce my average calories to within the target range.
Recap
And now to recap on some previous made points:
Keto chocolate – I have mostly reduced the need for this, although it is still something I look to buy when I go to the shop. At $5 a pop, it's also an expensive treat. I have been buying the white chocolate version which is really nice, but it's high in fat and higher in calories than I want to spend on a snack. The white chocolate has been largely preferable to the dark mint chocolate as it doesn't cause digestion issues, despite still being very sweet.
Running – I will discuss this in a dedicated section later on in this article, but I can comment that progress has generally been good on this front.
Cognitive – This is okay. It's not as great as I have seen on this diet, but generally on average I believe my cognitive processing abilities are increasing on average. It still only comes to me in bursts, usually after drinking coffee and eating my daily meal.
Keto icecream – I have not purchased keto icecream since making my own - so I consider this a resounding success. My version isn't quite as good as the shop purchased ISO brand, but it is good enough that I have not been tempted to buy it. The added bonus of my protein powder version is that, of course, it is absolutely packed with protein.
Running
As you can see, I have been working hard starting the running, something I had been failing to start for quite a few months. I believe I am now getting my legs under me (quite literally) and progress from now on should be pretty decent.
Just last week I went from barely being able to run a single mile, to now being able to run 4 miles! It should in theory only be a process of a few weeks before I am able to run a half marathon. I expect my pace will increase just by repeatedly going out and running.
During running, I found that I have been running initially with a heart rate of 140-150 bpm, and then after about the first mile this drops to 70-80 bpm. This could also be a limit of the PineTime smart watch, others have reported that the heart rate measurement can be inaccurate. Feeling my heart as I run, it feels closer to double the reported value.
I checked out runbundle to calculate the effect of weight on a 10 mile run, assuming I can maintain a 12:30 pace:
| | | |
| --- | --- | --- |
| 110 | 02:00:28 | - 04:32 |
| 111 | 02:01:23 | - 03:37 |
| 112 | 02:02:17 | - 02:43 |
| 113 | 02:03:12 | - 01:48 |
| 114 | 02:04:06 | - 00:54 |
| 115 | 02:05:00 | - |
| 116 | 02:05:54 | + 00:54 |
| 117 | 02:06:48 | + 01:48 |
| 118 | 02:07:42 | + 02:42 |
| 119 | 02:08:36 | + 03:36 |
| 120 | 02:09:30 | + 04:30 |
So in theory I can expect to see an improvement on pace just by losing weight and maintaining my current level of fitness. This plus continued running should enable me to crack a half marathon before the end of the year, perhaps even putting in a competitive pace!
Book
I am currently working on a keto book - intended to be the thing that I would have liked before I started. The target audience is morbidly obese people looking towards getting into the obese/normal range through the use of a reduced calorie keto diet. It will essentially hold somebody's hand through the first 90 days of the keto diet.
The idea is that each day is allocated to some topic and it is presented in an easily digested way, at roughly the time it will be relevant to the diet. There will be milestones (important moments of note), science (diving into exactly what is happening), comparisons (how is keto different from other diets), exercise (how to exercise correctly on a keto diet), general (general tips and advice), food (discuss specific foods and nutrition) and meal (specific meal preparation and nutrition) topics.
So far I have 54/90 unique pages/days 'planned' (a good idea for the topic) - and I am still generating ideas for the others. I realised early on that writing this book will take a considerable amount of time, especially as I am unable to put more than a few hours in each week.
Next Steps
In the next steps, the plan is to:
Running increase – I will continue to increase my running distance and increase my running pace. My initial target is to be able to run a half marathon before the end of the year, but we'll see.
Exercise tracking – Once we are out of lockdown, I want to track more exactly my running progress. Using the GPS from my phone, I should be able to not only figure out running times, but also be able to accurately measure my exact running pace. This, along with my heart rate, will allow me to really hone my running to be more optimal.
Calorie reduction – I will continue to reduce my calorie intake, down to the target of about 800 calories per day. This, with running, should mean my weight loss progress increases rapidly.
Until next time!