Still Going #keto

This is a continuation of the keto journey. Previous articles:
Diet progress update: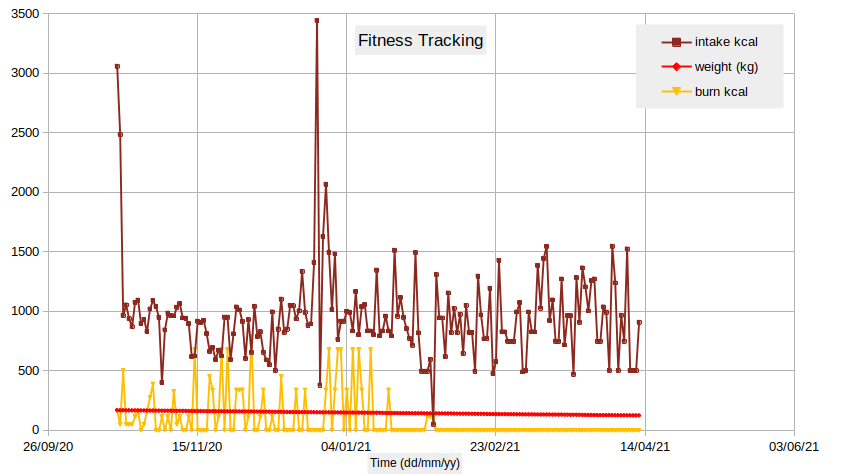 It's been about two months since the last update and I'm still at it. On the graph I stopped recording exercise, simply because it became a pain to do so - I'm always walking around and doing things, and documenting it all is really annoying. With just documenting the food it's only a few times a day at most.
I've been quite fortunate to be able to continue with an approximately linear decline in weight. It's now getting more and more difficult to be able to tell if progress is still being made, but I remain on the diet anyway. The scales still vary massively day-to-day, even hour to hour.
In terms of how easy it has been to maintain the diet, I've not had any real problems at all. We had a pizza night and it really sucked to watch people eating delicious pizza, but I was able to maintain my composure. Before I started my diet I ate way too much pizza, the mixture of bread and cheese, sweet and savoury, really does switch something on in my brain. I do need to be careful around specific foods. I will discuss this more at the end.
Recap
In the last post I discussed a few points:
Coffee – In the last update I discussed treating coffee as a zero-carb item - something I've now amended. I now consider each cup to have 1 gram of carbohydrates, but still with zero calories (although in reality there would be some small amount).
Almond milk – I've now entirely dropped almond milk entirely and only drink black coffee. I do prefer the cream taste and texture of a cup of coffee with some kind of milk, but ultimately it's a sacrifice I'm willing to make.
Sweetners – This is now entirely reduced to zero, other than in some diet soft-drinks. I no longer buy sweetner at all. This for sure has also reduced my carbohydrate and calorie intake.
Water – I have not been able to greatly increase my water intake, and I have been punished for it. I am quite often in a position of dehydration. I continue to work on this.
Stress – I believe I have been mostly successful in disassociating stress and stress-eating. I no longer look for food during times of high-stress.
Fasting – I have been mostly doing this, eating within an hour window and spending 23 hours fasting each day. I still am yet to achieve multi-day fasting, but my attempts to do this hurt.
Cycling
Due to a good turn of events, I have been long-term loaned the use of a push bike. It's a relatively nice road bike (compared to my previous bikes) and I'm very appreciative of it.
This in turn means I am able to do harder cardio exercise that uses different muscle groups and elevates my heart rate. The problem with running for now is that I'm still too heavy to avoid doing real damage to my joints - which makes the use of a bike idealistic.
I went out for the first time a few days ago, and thankfully I hadn't forgotten how to ride a bike after 8 years or so. Although I wasn't able to travel far, it really pushed my body quite far. The tops of my legs were pushed far and so was my heart. I am going to have to slowly build up tolerance.
The other problem I have is that due to my weight, the bike seat is really hard. I think I literally got bruising from it. I need to think up a solution to reduce this effect also - perhaps a cushion or something.
Hair
In the last few days I have lost quite a bit of random hair, my scalp is currently very dry for whatever reason. It's entirely possible it's diet related, or something else entirely. If I learn more I'll update it here - but I have heard other people on keto complaining about the same thing.
First Meal
People keep asking me "When you are off this diet, what will be your first meal?". I still haven't come up with a good idea about this. I know I will have to back out of the diet slowly… I have some ideas regarding this anyway:
White chocolate – This is how I ended my first diet. This time I think this would be a really bad idea, the sugar overload might kill me. Now I've broken my sugar dependency I don't want to restart it.
Pizza – This seems to be a particular trap food for me, and although I really like pizza, it's not the food I should break this diet with.
KFC – This is not such a bad option - a mostly protein option with the addition of some carbohydrates. I used to quite enjoy KFC before the diet, it was probably one of the healthier fast food items I would eat.
Sunday roast – This is something I would only eat in the UK, and likely only made by my Grandmother or Father. It's a relatively complex meal and it needs to be prepared correctly - but tastes good when it is.
Baked potato – Whilst a humble food, it's a favourite. Growing up as a kid I would have a baked potato with some cottage cheese or tuna and salad cream, with a side serving of salad. I miss the simpler times.
Cereal – Again, another humble food, but it has been so long since I last was able to eat cereal that I kind of miss it. Even bran flakes seem attractive these days.
Pasta – A pasta bowl mixed with mayonnaise/salad cream, tuna/sausage and cheese. It's a very carbohydrate heavy meal, but could be a great way to start the first proper meal.