Listen:
Site Statistics Update

This is a follow up to the previous site statistics discussion. It's now been almost 3 months since that last update and I had some expectations about how things may change… We'll see what actually happened!
Requests
Previously we say that we had gone from about 500 requests per day to 1000 requests per day in about four months. My thinking back then was that if I continued to post regularly then I could look to get this over 1500 requests per day, perhaps even 2000 requests per day.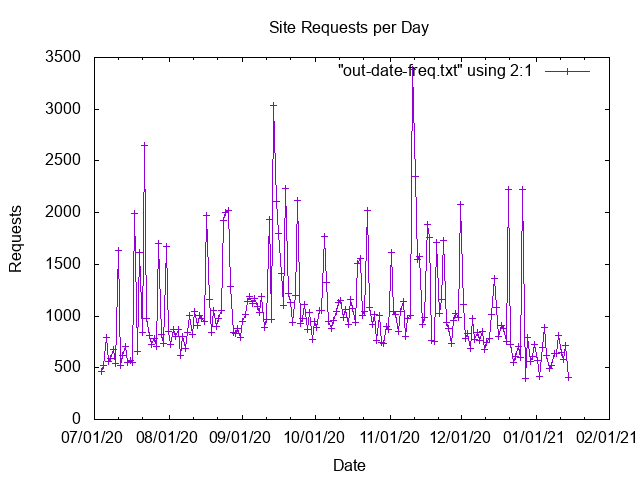 As you can see, what actually happened was that the number of requests per day actually went down. Kind of annoying given the additional effort to keep the site more up to date.
So why could this be? I have a few ideas:
When I first implemented the git page project, I suspect search engines went a bit wild crawling it all - every link they found pointed to somewhere new! I think this then tricked their algorithms into thinking I was "creating" more and more content, prioritising me in the caches for search. I haven't updated any of the projects on there for quite a while now - and I believe as a result, I've lost traffic.
People could have been distracted by something else - say the US election or coronavirus. Perhaps it was actually my discussion about the US election that meant I lost peoples interest?
My content is maybe not as exciting as it used to be. Whilst a negative view, it's one worth considering. I did go through a period of posting code examples, something that people may have found really useful. That said, I was quite happy with the value added with something like the ffmpeg audio project.
Anyway, I guess the real question here is whether I plan to change anything in order to chase page reviews? I think the answer is no. I'll just keep posting stuff here that I want to post.
Locations

So the locations data really hasn't changed by a drastic amount - which I'm not sure what to make of? I guess it really means that I'm not breaking into any specific geographic audiences?
Future
As I previously mentioned, I still want to collect other interesting data! I just haven't gotten around to this yet. Some additional ideas include:
SEO optimization – Most search engines look for specific additions in the page content to help classify exactly who may be interested. This should be relatively easy to add at least some of this to the existing pages.
Link preview – When posting links into social media, etc, they use "Open Graph" in order to display link preview information. This make the links much more attractive for clicking in general.