So now I will propose such a device… I'll start with some hardware, then talking about the operating system and finally talk about the applications. The idea is to make a realistic proposal that can be achieved with existing hardware and software (for the most part).
Operating System
As already discussed, the idea would be to use Linux. There has already been some effort to mainline into the kernel, with a viable distribution likely being Armbian. As the networking appears to be supported, it should be possible to do initial development work via SSH, although a serial terminal is also supported.
The idea for the window manager will be to recycle the oakwm project ideas and build an even lighter user interface from scratch. Many of the original features from wm2, specifically the window decoration, I found to actually be extremely CPU intensive. As it happens though, for the most part, we don't actually need or want window decoration anyway. Rather than hack wm2 to do what we need, it will likely be easier to simply build a minimal user interface from the ground up.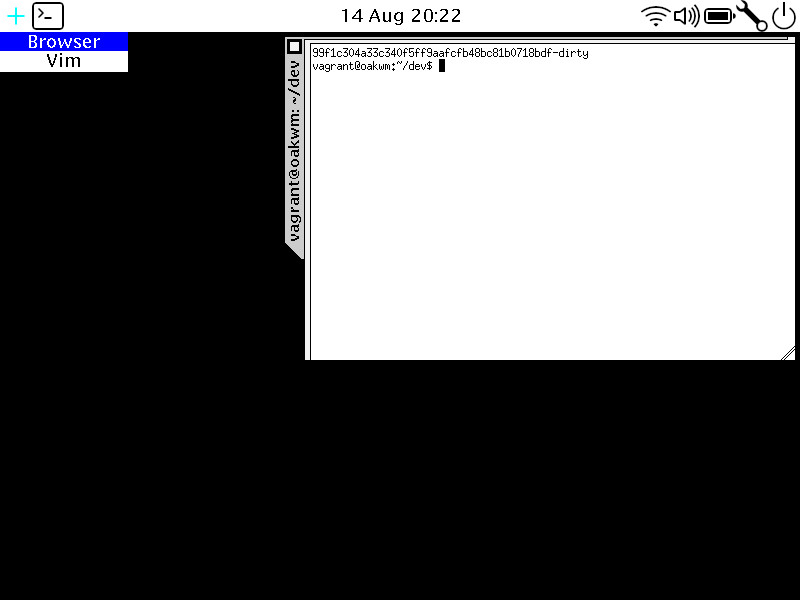 Essentially the user interface will be approximately like the following:
0001 +--------------------------------+
0002 | [=] [app name]       [v] [|||] |
0003 +--------------------------------+
0004 |                                |
0005 |                                |
0006 |                                |
0007 |                                |
0008 |         Application            |
0009 |                                |
0010 |                                |
0011 |                                |
0012 |                                |
0013 |                                |
0014 +--------------------------------+
A space is reserved at the top for a toolbar that is always accessible and on-top, with the application always being 'full-screen' below. The reason for keeping the toolbar always visible is because it will always be running and be the only way to escape some running application and back into the main menu. Only applications in the 'main window' will get some decent processing time, everything else is either closed or opened periodically.
There would also be an on-screen keyboard for touchscreens, so applications would need to be able to handle dynamic resizing:
0015 +--------------------------------+
0016 | [=] [app name]       [v] [|||] |
0017 +--------------------------------+
0018 |                                |
0019 |                                |
0020 |         Application            |
0021 |                                |
0022 |                                |
0023 +--------------------------------+
0024 |                                |
0025 |           Keyboard             |
0026 |                                |
0027 |                                |
0028 +--------------------------------+
Applications
So it's very likely that applications will need to run in under 64MB of RAM when running with a GUI, so they need to be designed really well. This does have benefits for other devices though, for example, the PinePhone which is also very RAM limited. It also couldn't hurt for modern development to be much more resource friendly!
One thing that I am considering is whether to use the JVM on the PDA. Many older Android phones for example would run a very lightweight JVM for all applications, and these were surprisingly fast all things given.
EDIT: This server now operates on 128MB of RAM, including running nginx, a jvm, pandoc and ffmpeg - 128MB should be plenty if handled correctly.
Whilst C/C++ would be both faster and smaller, the JVM offers instant cross-platform capability and the greatest possibility of multiple device support. The benefit of this would be that you could run exactly the same software on your PDA as you do on Linux, Windows and MacOS - with the small RAM footprint! No Linux lock-in.
The greatest consideration would be whether the resources are available. In theory, running applications whilst the JVM is already started should be quite fast. You can even limit the RAM available considerably in order to prevent OOM and swapping.
The last real consideration is the possibility of some kind of 'app-store'. This would just be a collection of PDA specific friendly apps that are able to be accessed from the app menu. Ideally apps that are to be used with the device would need to have several features, such as low-RAM footprints, be touch-input friendly, be able to handle kill signals elegantly, etc. There would be no reason for example to have GIMP in the app store, as there is not a hope in hell of that running on a PDA (nor would it be the purpose or place of a PDA).
Configuration
This would be the entire device's configuration, such as system theme, language, time/date, internet connection, device switches, etc. Everything that can be adjusted for the PDA and is not application specific would likely find its way in the configuration application.
As there will be so many settings, some form of menu navigation and grouping will be required. It would then make sense to force a reload of the PDA (warm-reset) in order to ensure the entire system state is reset.
Calculator
A very simple initial application is a calculator - if it can't do this then we really are screwed. Unlike some applications though, as we're running Linux, it should even be possible to make use of a solver and really add some value. You could expect it to answer something like for example.
Camera
As the PineCube has a camera (it's supposed to be an IP camera after all), it would make sense to make use of it. This would include photos and videos, although it is quite likely this functionality would largely depend on the write speed of the external micro-SD.
Notes
This is a basic expectation of a PDA device - to be able to store notes. This will mean not only a text viewer, but a text editor. One should expect that it is also RAM efficient and capable of opening large files, as well as searching for text in the large files.
My initial thinking is that it would make use of markdown for markup of the text, meaning there is some very lightweight rich text, whilst still being very compatible with other formats. With the use of pandoc it could easily be exported to anything the user needs (although this would likely never be run on the PDA itself).
Calendar
This is notoriously hard to implement, I would most definitely be looking to use a library for this. Time and dates for example are on their own are insanely hard to correctly implement.
The idea essentially would just be to have something that can view an existing calendar - the capability would definitely be quite limited. It's not entirely clear how everything will be synced across multiple applications as so many different formats are used for email calendars.
Email
Again this is something I would want to use a library for. I imagine the easiest way to handle this would be to sync with POP, IMAP or SMTP. This would require the use of several tricks in order to use very little RAM - the shear amount of data alone could make it near impossible to display for example.
Chat
This would be text-based communication, initially a lightweight IRC client (as state doesn't need to be tracked). Other chat clients would have some expectation that they are active in the background and require some database to store messages. If we remove the need for logging and just keep some messages in RAM (and of course channels to connect to would be a configuration saved to disk), then in theory this would be extremely lightweight.
Browser
This will have to be thought about carefully - the PDA isn't going to be able to use something like Firefox. But a possibility could be Dillo or Netsurf, two 'reasonable' options. If we can use just their libraries, it could be possible to build a very thin single-page wrapper.
Internet Phone
Projects like the ESP32-based WiPhone have shown that it's possible to use a little processing power and WiFi to have an internet connected phone, capable of doing calls. This means that it's quite hopeful that an even more powerful machine is capable of handling phone calls quite easily, likely being also able to do much more - such as audio compression, noise reduction and recovery.
Feed Reader / Podcasts
Building a new RAM friendly RSS feed reader has been on my mind for a while now, I even wrote a blog about it. I already found that Thunderbird was ill suited to the task, as is Akregator. A new RSS feed reader that is speed conscious will be a welcomed new piece of software for the open source community.