Results
So, the results are not as expected and I believe there is something interesting at work here…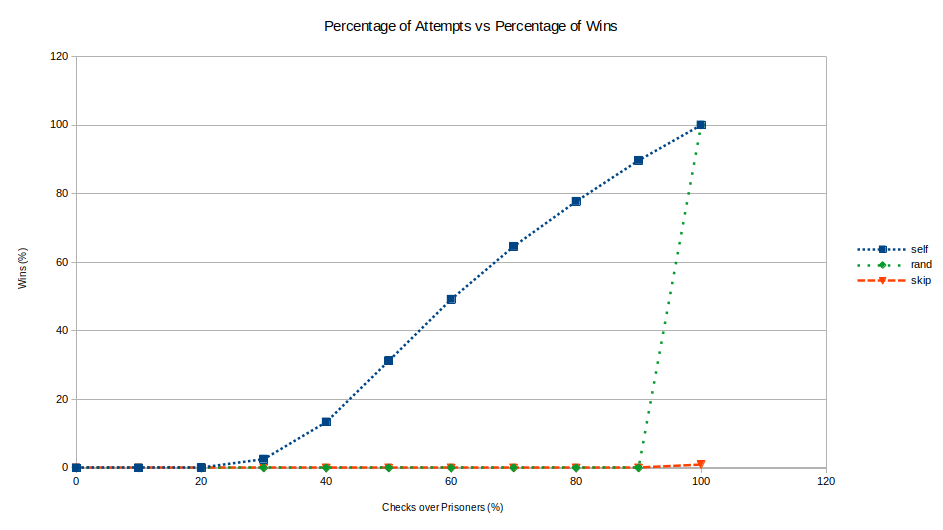 So obviously we have have our 'self' algorithm that works as we calculated previously.
Next we have the 'rand' algorithm that performs poorly, unless it is allowed to check all boxes (as expected).
Then we have the 'skip' algorithm that simply performs the same search as 'self', but skips by 1. Wait a second… It performs really badly? This was not expected at all. This indicates that the first position we start searching from affects which "loop" we end up on.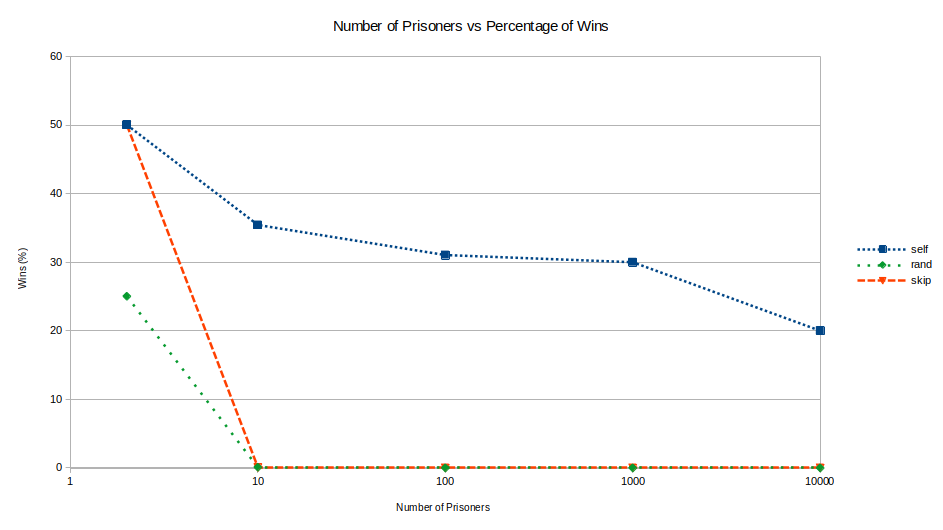 The 'self' and 'rand' algorithm performs as expected, but again the 'skip' algorithm performs badly.
Raw data is as follows:
0030 self,1,2,10000000,5001457.0,10000000,50.014570000000006%,20769640900
0031 self,5,10,1000000,354262.0,1000000,35.4262%,10672566808
0032 self,50,100,100000,31044.0,100000,31.044%,45544446116
0033 self,500,1000,1000,300.0,1000,30.0%,42518455906
0034 self,5000,10000,10,2.0,10,20.0%,48287585677
0035 self,0,100,100000,0.0,100000,0.0%,6767997565
0036 self,10,100,100000,0.0,100000,0.0%,14948252739
0037 self,20,100,100000,41.0,100000,0.041%,24070816482
0038 self,30,100,100000,2565.0,100000,2.565%,29847178737
0039 self,40,100,100000,13391.0,100000,13.391%,35310234124
0040 self,50,100,100000,31220.0,100000,31.22%,39331259432
0041 self,60,100,100000,49185.0,100000,49.185%,46962140164
0042 self,70,100,100000,64605.0,100000,64.605%,49379891664
0043 self,80,100,100000,77735.0,100000,77.735%,50901500812
0044 self,90,100,100000,89687.0,100000,89.687%,51604109332
0045 self,100,100,100000,100000.0,100000,100.0%,49706191336
0046 rand,1,2,10000000,2502035.0,10000000,25.02035%,39248657527
0047 rand,5,10,1000000,960.0,1000000,0.096%,43968653134
0048 rand,50,100,100000,0.0,100000,0.0%,339515429024
0049 rand,500,1000,1000,0.0,1000,0.0%,367579695702
0050 rand,5000,10000,10,0.0,10,0.0%,607923410899
0051 rand,0,100,100000,0.0,100000,0.0%,7536006420
0052 rand,10,100,100000,0.0,100000,0.0%,89803886521
0053 rand,20,100,100000,0.0,100000,0.0%,155016395627
0054 rand,30,100,100000,0.0,100000,0.0%,217018814940
0055 rand,40,100,100000,0.0,100000,0.0%,268104319902
0056 rand,50,100,100000,0.0,100000,0.0%,311205975417
0057 rand,60,100,100000,0.0,100000,0.0%,346592624045
0058 rand,70,100,100000,0.0,100000,0.0%,393477700167
0059 rand,80,100,100000,0.0,100000,0.0%,437455875647
0060 rand,90,100,100000,3.0,100000,0.003%,436822600070
0061 rand,100,100,100000,100000.0,100000,100.0%,415083683072
0062 skip,1,2,10000000,4999941.0,10000000,49.99941%,21114771236
0063 skip,5,10,1000000,549.0,1000000,0.054900000000000004%,10848657570
0064 skip,50,100,100000,0.0,100000,0.0%,40141763593
0065 skip,500,1000,1000,0.0,1000,0.0%,36626036769
0066 skip,5000,10000,10,0.0,10,0.0%,39426001437
0067 skip,0,100,100000,0.0,100000,0.0%,6327002856
0068 skip,10,100,100000,0.0,100000,0.0%,14754162746
0069 skip,20,100,100000,0.0,100000,0.0%,22457383263
0070 skip,30,100,100000,0.0,100000,0.0%,29181398259
0071 skip,40,100,100000,0.0,100000,0.0%,34925192476
0072 skip,50,100,100000,0.0,100000,0.0%,40708253132
0073 skip,60,100,100000,0.0,100000,0.0%,45181734701
0074 skip,70,100,100000,0.0,100000,0.0%,50143153485
0075 skip,80,100,100000,0.0,100000,0.0%,54583025757
0076 skip,90,100,100000,0.0,100000,0.0%,58502951878
0077 skip,100,100,100000,990.0,100000,0.9900000000000001%,63255395304