Online and Offline
I think draw.io [5] is a perfect example for how a form of editor can exist on a web page, but perhaps may not work so well offline (haven't really tested it).
The output of the editor will be Markdown (*.md, *.markdown) and HTML (*.htm, *.html). It will also be able to edit those types of documents, although not all will be supported. As Markdown can sometimes lack consistency, we'll have to stick strictly to John Gruber's version of Markdown.
Whether it's HTML or in-line HTML in the Markdown document, not all tags will be supported for security reasons. Where possible, these will be dealt with to minimise visual impact, but a fallback option is always to hide what we don't know. There will be of course an option to ignore these security concerns at the user's own risk.
Security
By default, only the elements allowed by John Gruber's version of Markdown will be allowed in both HTML and Markdown "open" and "save" operations. Not all embedded HTML will be allowed for the purpose of security, though. Styles, attributes and callbacks will be stripped from the elements included for the interests of consistent stylisation and security. Allowing callbacks such as onClick="dangerousCode()" doesn't seem incredibly smart. Potentially somebody could steal every letter typed, for example.
Another security feature will be to wrap anything referencing external resources that are loaded in with some security measures, such as links. Users should be warned that their actions may be dangerous. (NOTE: It is yet unclear how external resources will be opened, such as links, in the native application. Some additional intelligence may be required to prevent websites opening in a potentially not very secure web browser.)
Simplicity
Ideally, I think the simplicity of Word 2 is ideal for this project: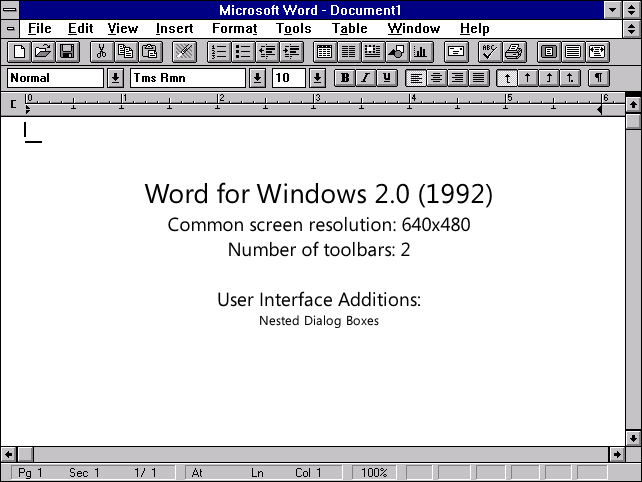 [Credit: jensenh @ Microsoft [6]]
For most users, it was simple. The icons are very symbolic, highlighting them tells you their function and almost everything you could want to do was sitting there. It doesn't look modern but for a lot of people I think it became a symbol of robustness. There's a good reason why Microsoft Office became very popular.
I would also like to do something that the original didn't, which is maximise the screen space available. This is a failing point for a lot of document editors which choose to clutter your display - hence why I'm a big fan of vim. I think most users in general want to feel as if they have space available and are not in some way confined.
Another designs aspect I would like to see is a concept of "clean" design. There are a few points I've learned as a general user:
Circles never look nearly as sharp as squares
White is the go to colour for making something appear clean
Less is often more
Icons are better than words
Responsiveness, such as hover or pressing effects give the user a feeling of control and buy extra milliseconds
Free and Open
Of course, this project should be available via GitHub for people to consume, edit, etc. I think a lot of the attraction to this software may be in it's simplicity and openness. It should be possible to know exactly how this system works over the course of an afternoon and be comfortable that it does what is says it does.
Lightweight
Ideally, the javascript source for the page should be extremely lightweight, ideally under 20kB once minified. Additional resources should be under 20kB - including images for buttons, etc.
References
[1] https://lwn.net/Articles/699047/
[2] https://news.ycombinator.com/item?id=12411747
[3] https://github.com/apache/openoffice
[4] http://daringfireball.net/projects/markdown/
[5] https://www.draw.io/
[6] https://blogs.msdn.microsoft.com/jensenh/2006/03/29/ye-olde-museum-of-office-past-why-the-ui-part-2/