Where Have You Been?
So, a long time since I've posted anything here… What have I been up to? A lot. A hell of a lot - and it's only getting busier as the deadline for the competition rapidly approaches. I probably don't even have enough time to write this blog, but it's often useful to offload your thoughts somewhere to keep your sanity.
Essentially my current life style breaks down into two different projects, PhD and RoboCup. As the RoboCup competition is near (four days), I find myself working almost 100% on RoboCup. To make matters much better I'm also quite ill, as if the lack of sleep and over-working myself wasn't already an issue.
RoboCup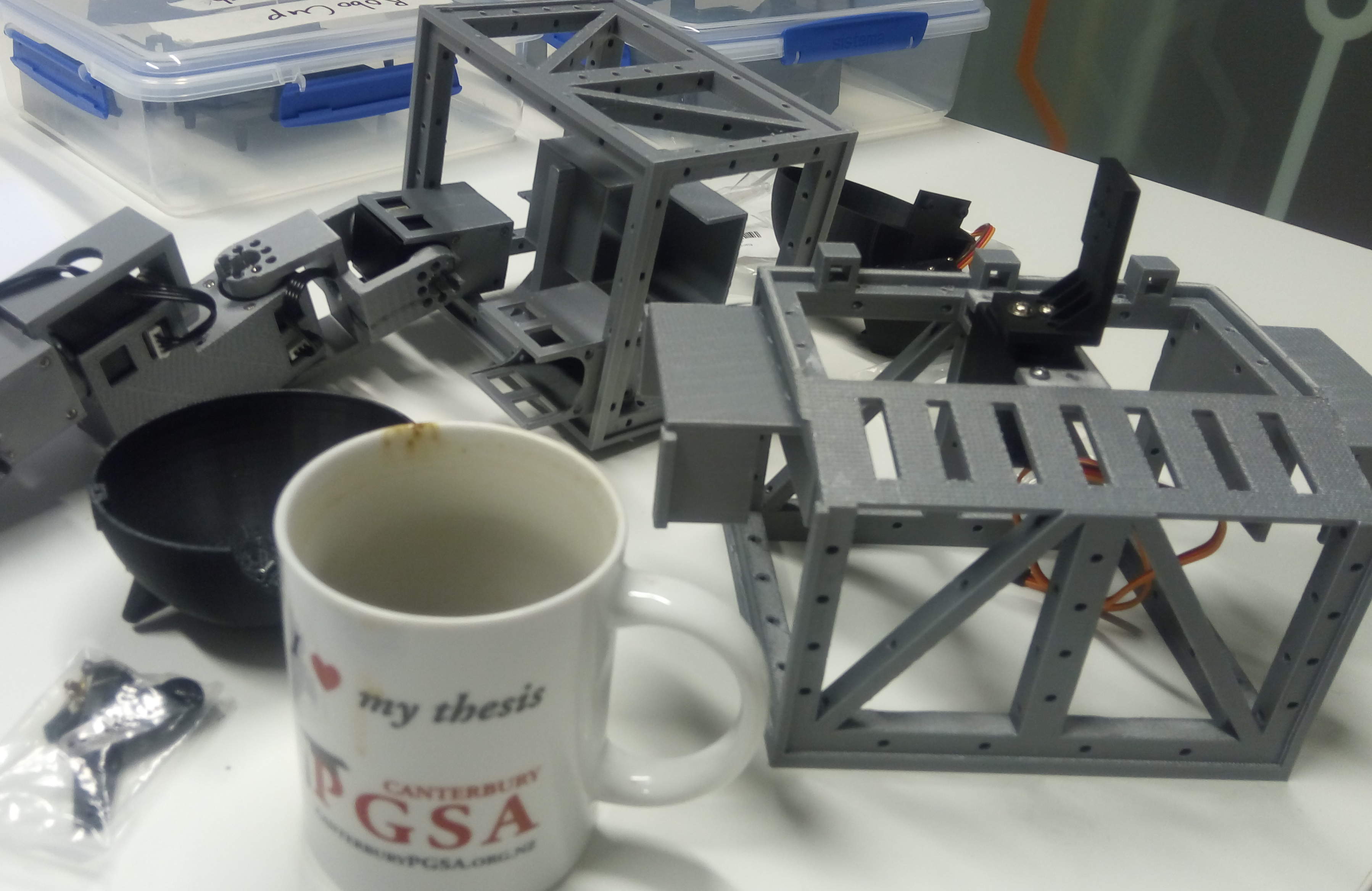 Four days to go before the competition, major redesigns are happening. Almost every part on the robot has needed to be resigned as our supplier in China stopped manufacturing two of the main motors. We were already in the middle of redesigning the torso and this motor change has lead to everything being changed. At the same time we decided to make some improvements, for example we no longer need to split the robot in half in order to make any kind of adjustment. The torso is now a hell of a lot stronger, even with just the beams, the reason being that the cross-sectional area is now much larger for the connecting parts.
We are still waiting on important parts to arrive. We accidentally ordered tonnes of the wrong filament and had to re-order it, but in that time the stocks of the particular filament we use stopped shipping to our Country. We are still also waiting on tonnes of parts to arrive from China, it's getting nail bitingly close to the competition and half of our equipment is still to arrive. We have approximately enough parts as it currently stands to build two robots but no more.
We have also experienced several things blowing up, including our Raspberry Pi, I2C PWM bus, PWM motors and smart motors. We believe we have a way to stop the Raspberry Pi and smart motors destroying themselves, but we have no idea what on earth happened with the PWM motors. It's quite likely there was a dead short from the factory, but we simply don't have the tools or time to debug what happened.
The original plan was to have four robots (a full team), but each day that goes by makes this possibility bleaker. Fingers crossed though. Add to all of this the fact that walking is currently up in the air, the localization is still being developed, the behaviour is untested and no scripts are written. We need nothing short of a miracle to get things operational.
On the positive side, our vision is pretty good.
PhD
In terms of the PhD I am currently working towards a journal paper which looks very promising so far. When I'm back from the competition the plan is to run the experiments for this and publish the paper. This means switching back over to this 110% to play catchup on the time missed.
Future
There are a tonne of project to look forward to in the future, which include:
Publish vision system
Publish open source humanoid platform
Open source WiFi enabled PDA
Open source IMU based mouse
Investigation into the feasibility of producing our own motors
Anyway, enough from me. Hopefully I will have some time in a week to two weeks to start writing here once again.