Scenes Review
I'll go through some of the most important scenes of the trailer as I see them.
Opening Scene
So first things first, is the very first scene we are presented with: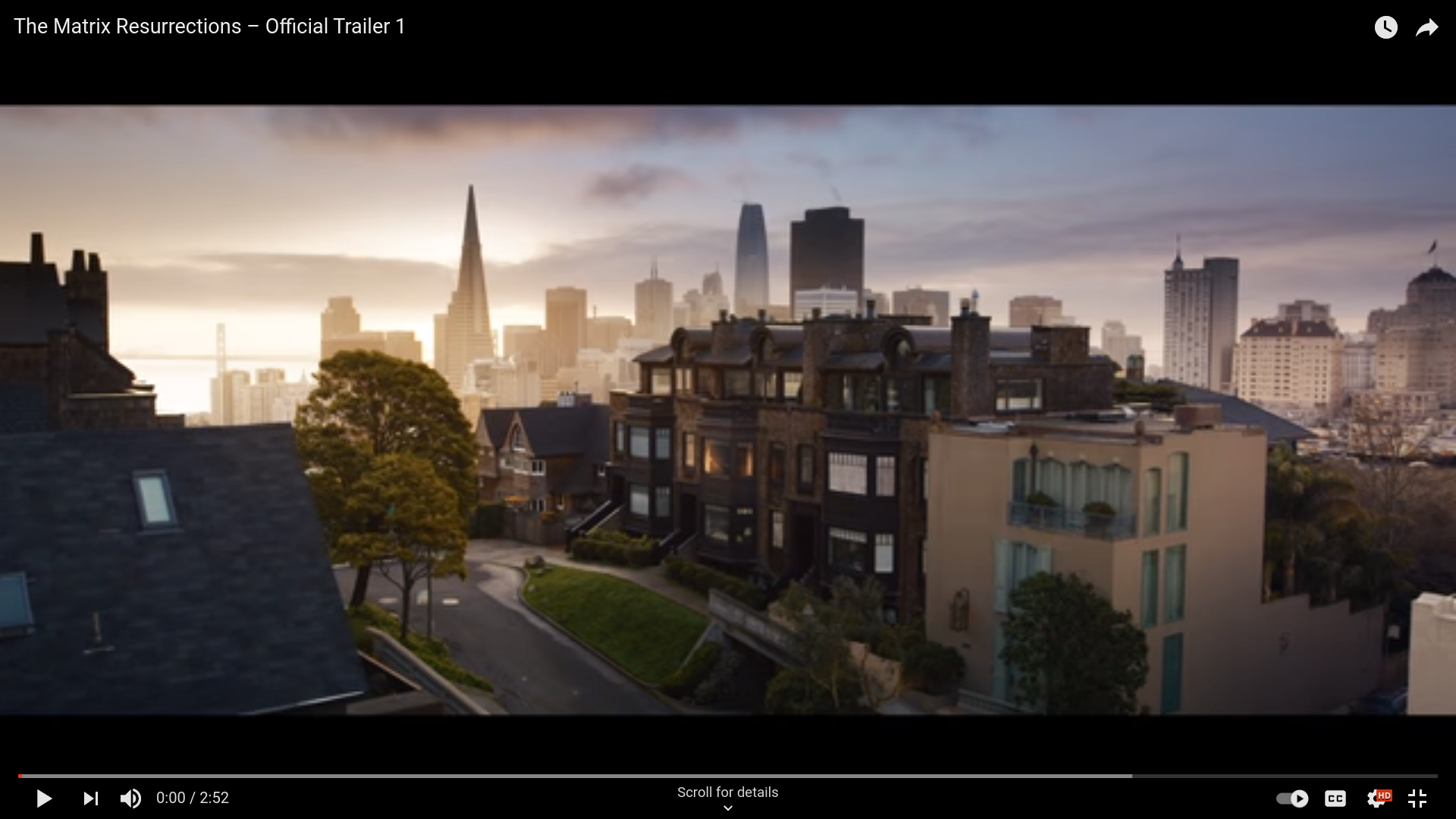 I'm not sure if it's supposed to be, but it looks CGI. As you can see there is no green tint, there is tonnes of colour and this is supposed to represent the non-machine controlled world (i.e. people are "free"). It does appear to be in the Matrix.
Psychiatrist
The trailer opens up the dialogue by showing Neo being interviewed by a Psychiatrist.
Psychiatrist: "Thomas…"

Black cat meows.

Psychiatrist: "You seem particularly triggered right now - can you tell me what happened?"

Neo: "I've had… Dreams that weren't just dreams."
In the original films, before Neo is Neo, he is Thomas A. Anderson. It appears that at least for part of this film, he has been reinserted into the Matrix and his memory is somewhat changed. I assume that after the last film, the machines took him away and reinserted him into the fields.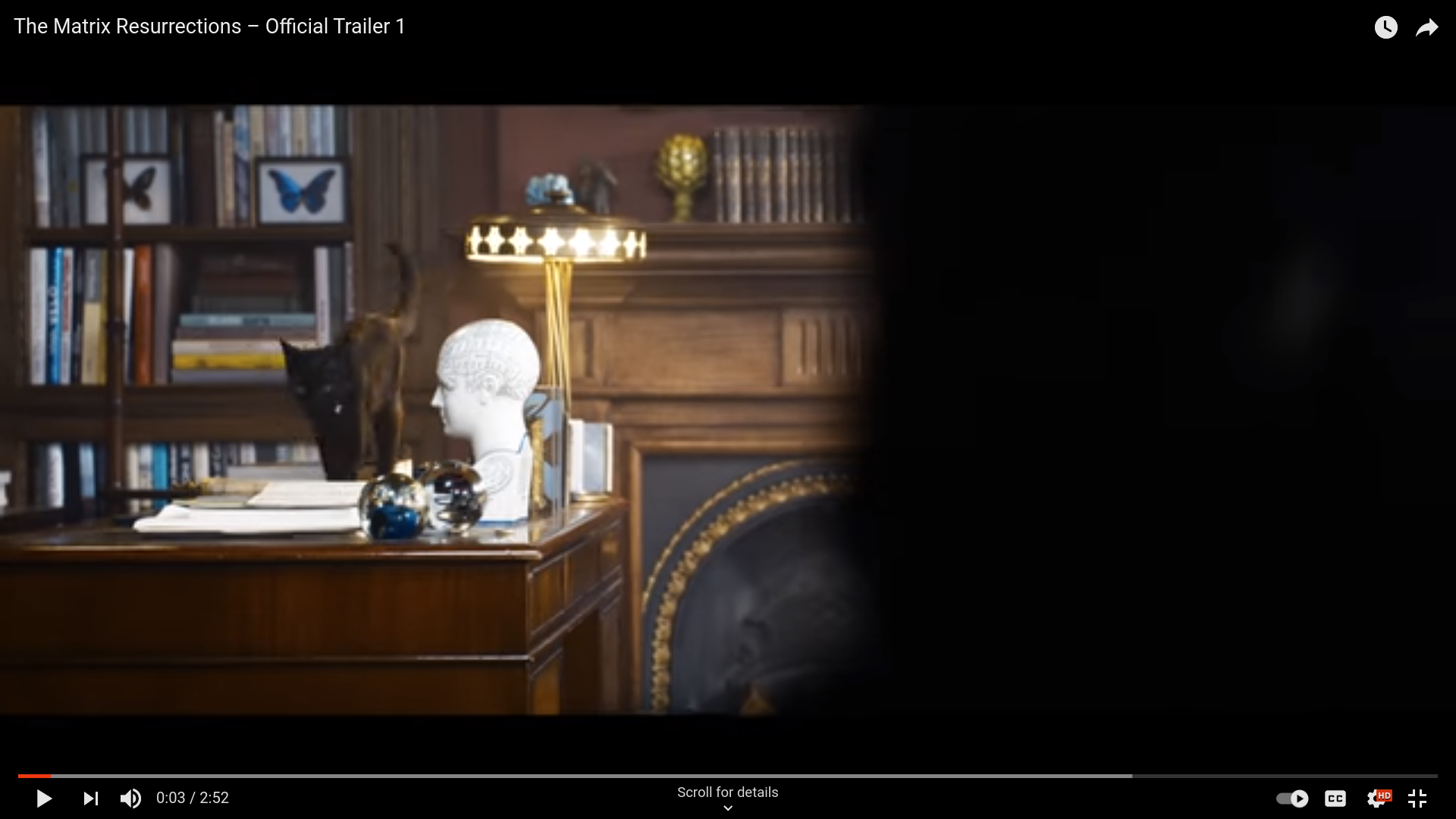 The black cat itself is significant to any watcher as a black cat meowing (twice) was how Neo accidentally noticed that the agents had changed the Matrix as part of a trap. This appears to be a nod to older fans that the machines are up to something and changing stuff.
Next we have the Psychiatrist say the word 'triggered', something that concerns me deeply. I hope it is just clinical terminology, but it also could be woke-speak making its way into the film. Only time will tell of course.
Source Visuals
I'm not particularly impressed initially with the source visuals - they appear to be sharper of course, but the glyphs originally used don't actually seem to be present .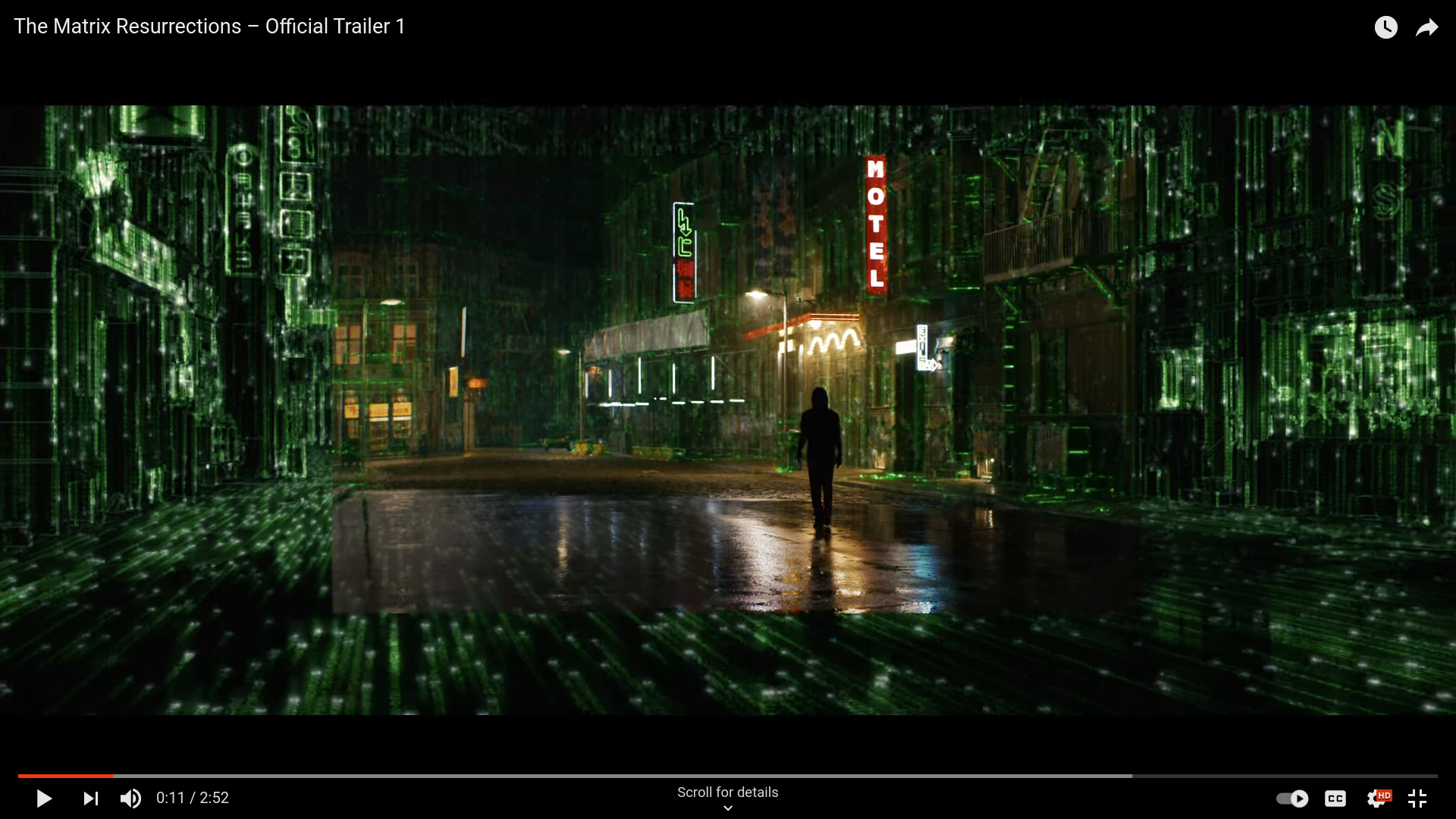 The world doesn't appear to be made of glyphs as it was in the original films. Contrast that to the original film: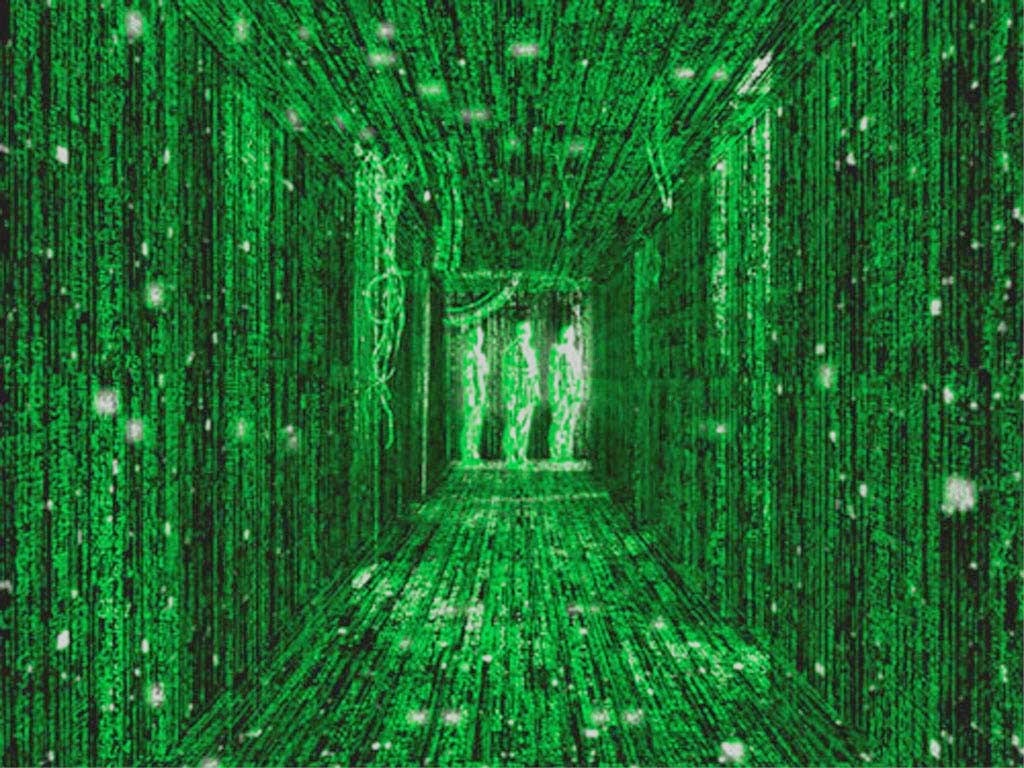 And again with the digits: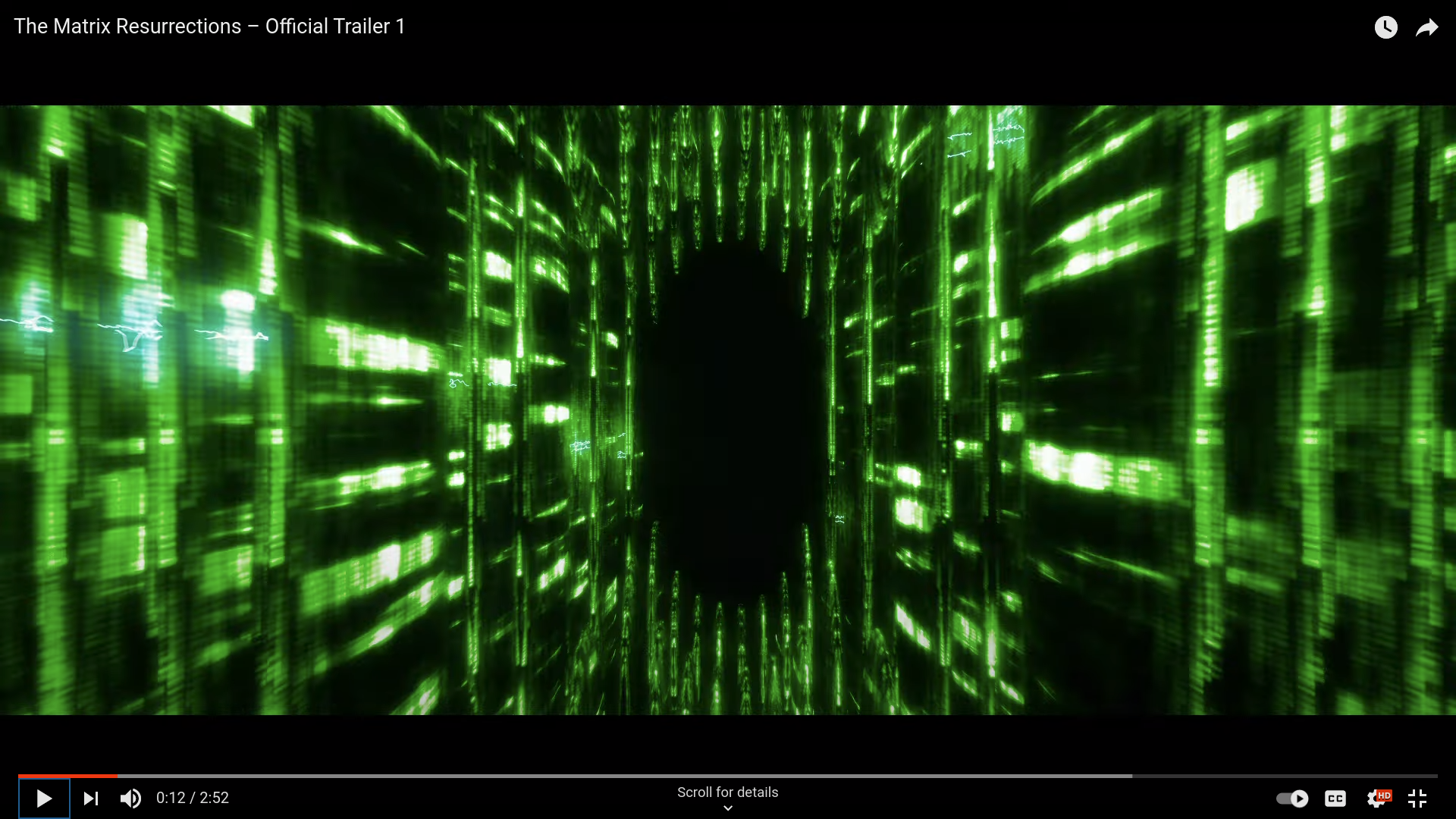 You might be saying 'What's the deal, this isn't important?' - but part of the nostalgia were the iconic glyphs used. I remember at times seeing every low-key hacker running a Matrix screensaver to show how cool they were.
Imagine for example this setup running the Matrix screensaver across all of the displays - doesn't get much more hacker than that. It doesn't matter how jank your setup was, we were united by this film series.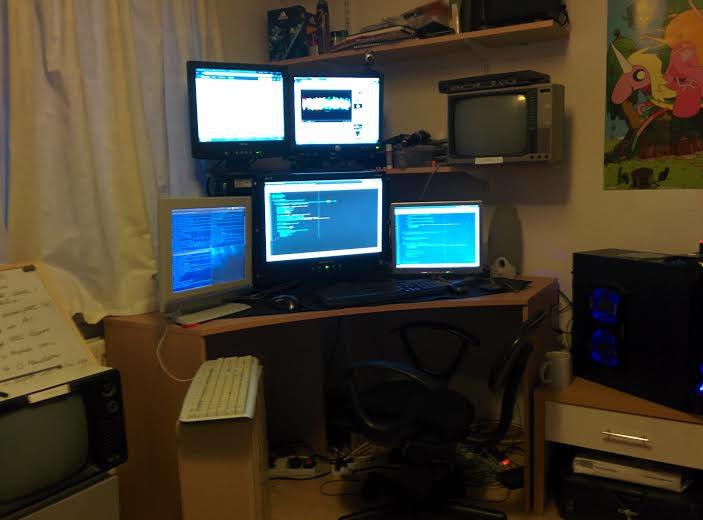 What made the Matrix iconic and cool was that we were all hackers. You would see this screensaver running on a desktop or laptop and instantly recognize a fellow person of taste.
Machine City Visuals
I'm not gonna lie, the machine city visuals look insanely cool: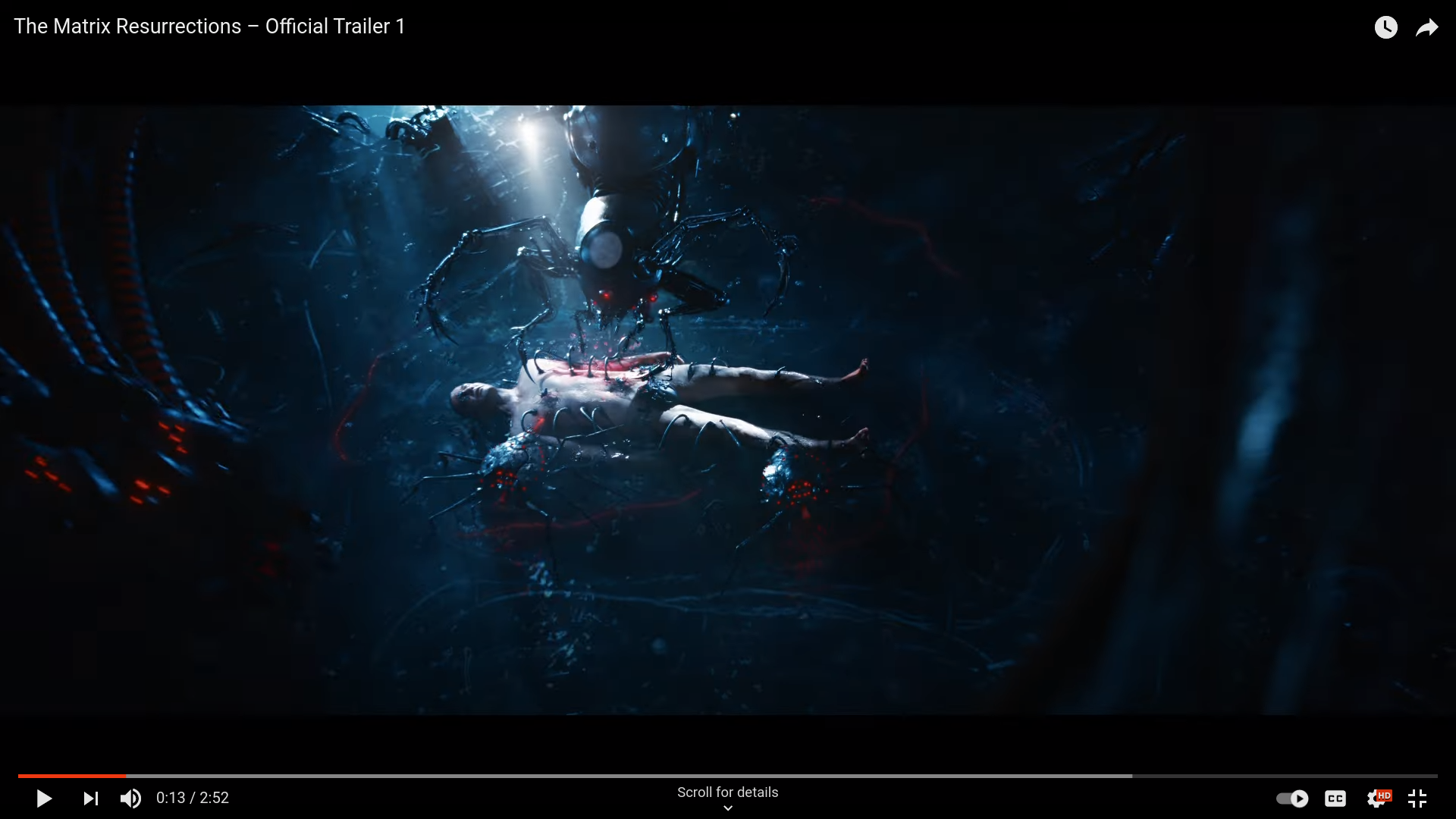 One criticism of the original Matrix trilogy was that it actually failed to explore how insanely dark the idea of the machines actually were. They literally liquefied the dead to feed to the living. There was zero compassion, it was just pure calculation.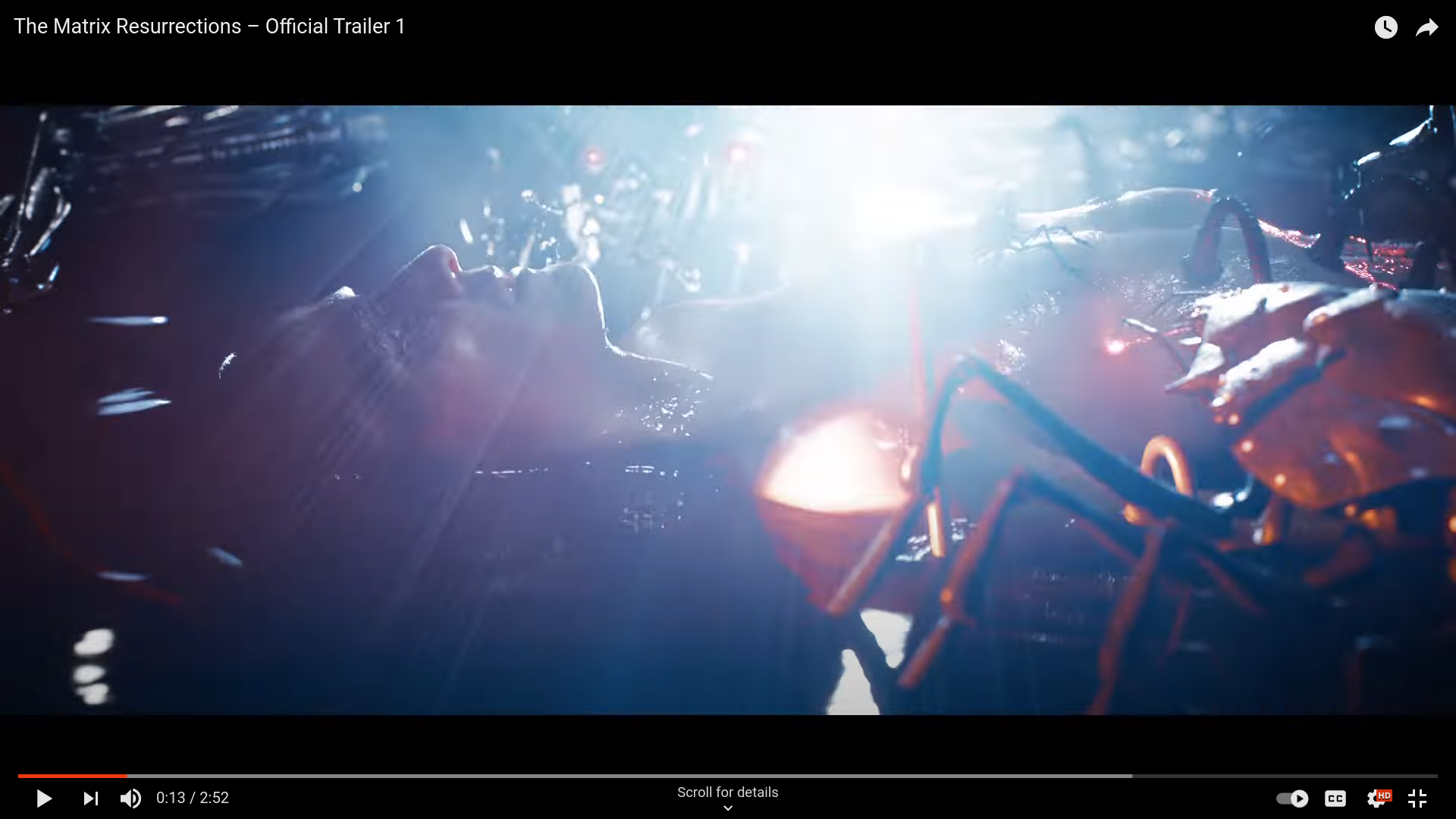 I really like the idea of them really showing in graphic detail how truly horrifying the farms are.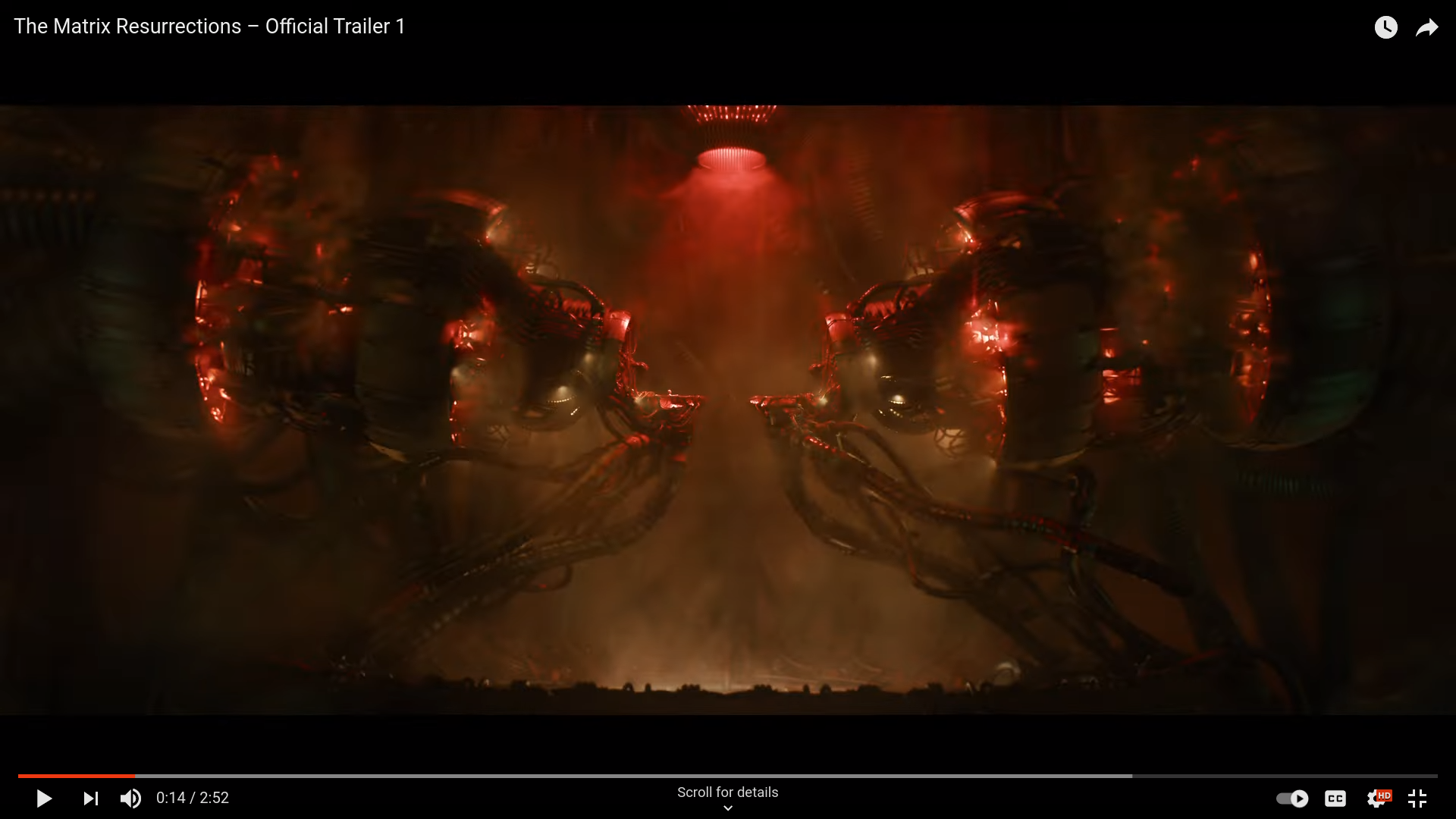 I believe this last part is an image from the machine city itself - again, pretty cool. I hope they bring back some kind of sentinel, but also feel free to create some new stuff we haven't yet seen.
Actors
A few people have criticized Reeves for not shaving his beard - in all honesty I think it's absolutely fine. He has aged after all and it could even be used to show his lack of control over the world he is in - after all, in the Matrix they are able to project their self-image.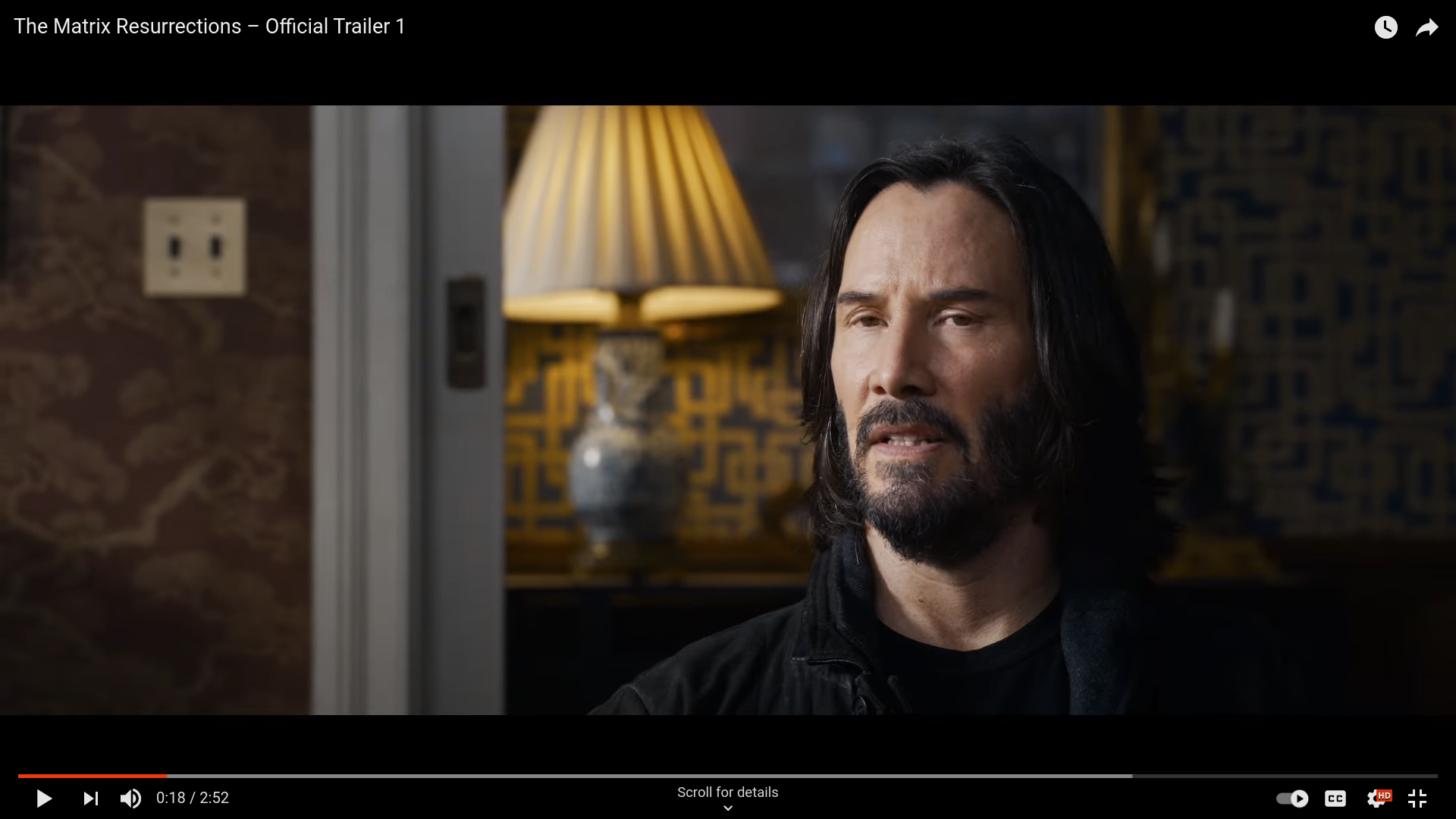 It would be great for example if by the end of the film, he once again is able to take control of his self-image and project the version of himself he sees. This could be quite an interesting contrast.
Next up is Trinity, who has aged exceptionally well:
I am really glad to see her back, as his motivation for fighting the system of the Matrix was almost entirely for her. I think without her it would have been somewhat awkward to clearly define Neo's motivation.
Blue Pill
Of course there is a not so subtle reference to Neo having taken the blue pill, i.e. chosen not to question his current reality, or at least is being encouraged to not question it.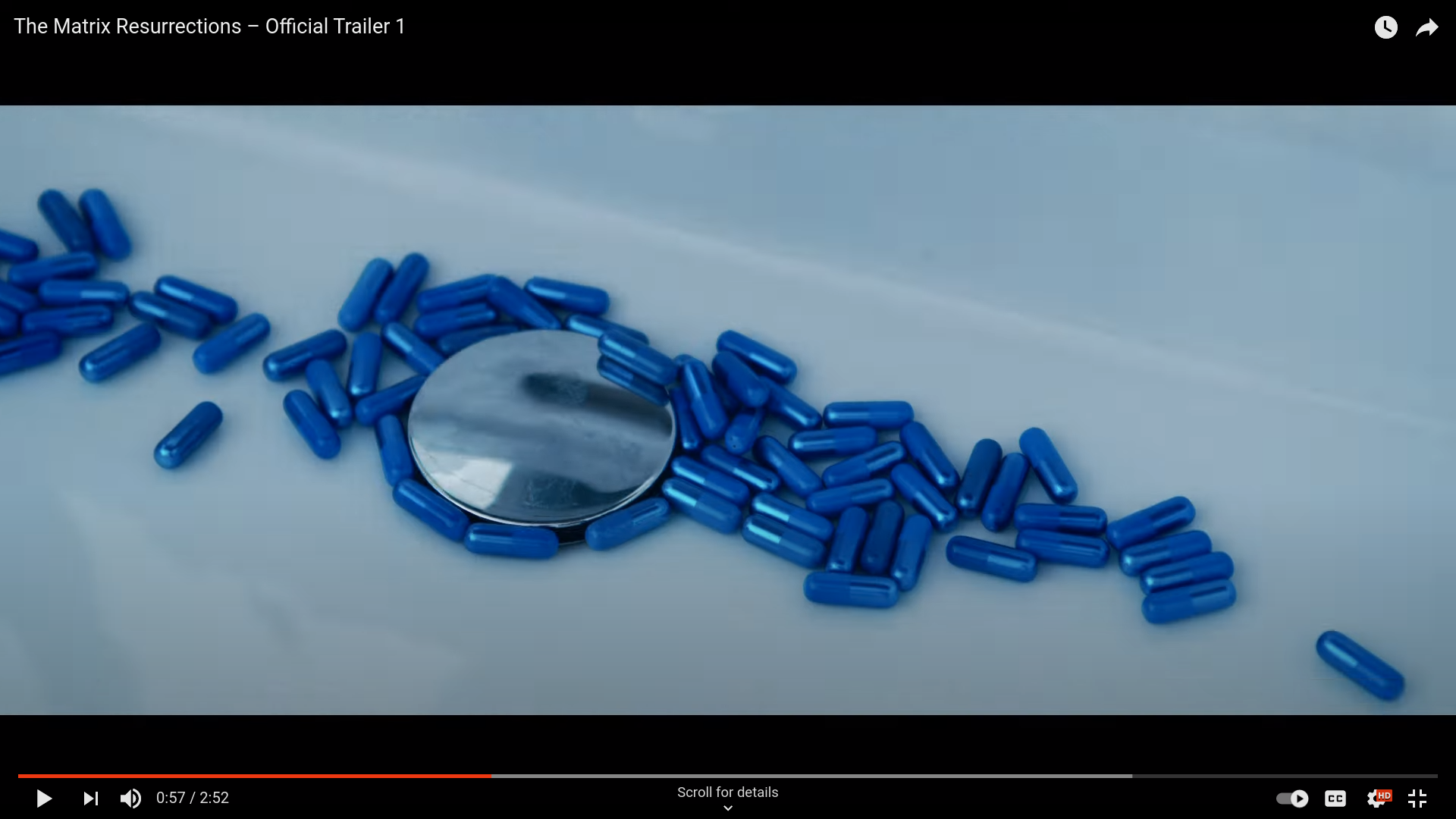 Again, there is also the class reference to Alice in Wonderland: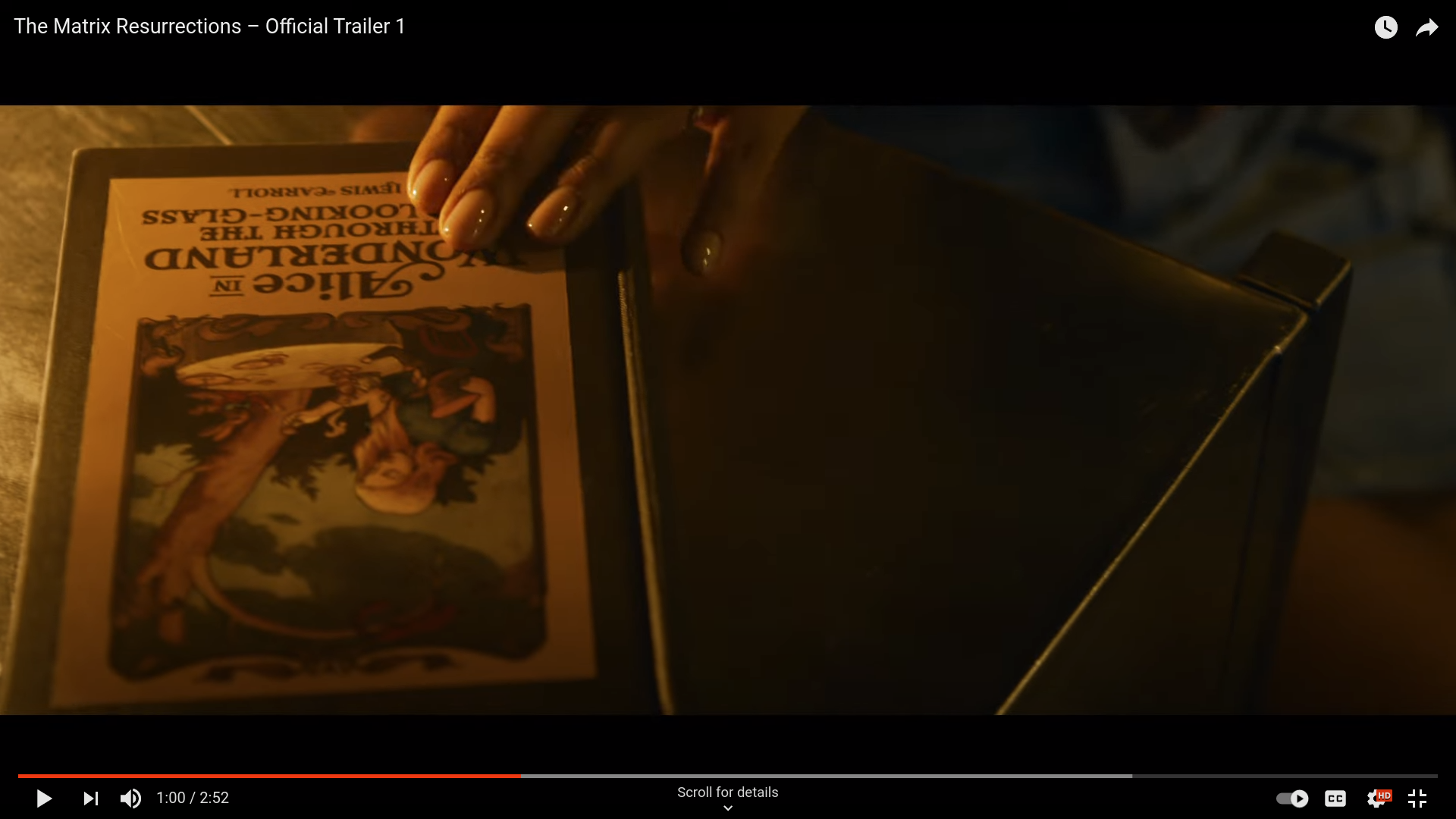 Morpheus 2.0
I believe we are then introduced to a Morpheus replacement who appears to offer Neo some kind of choice between a red pill and blue pill: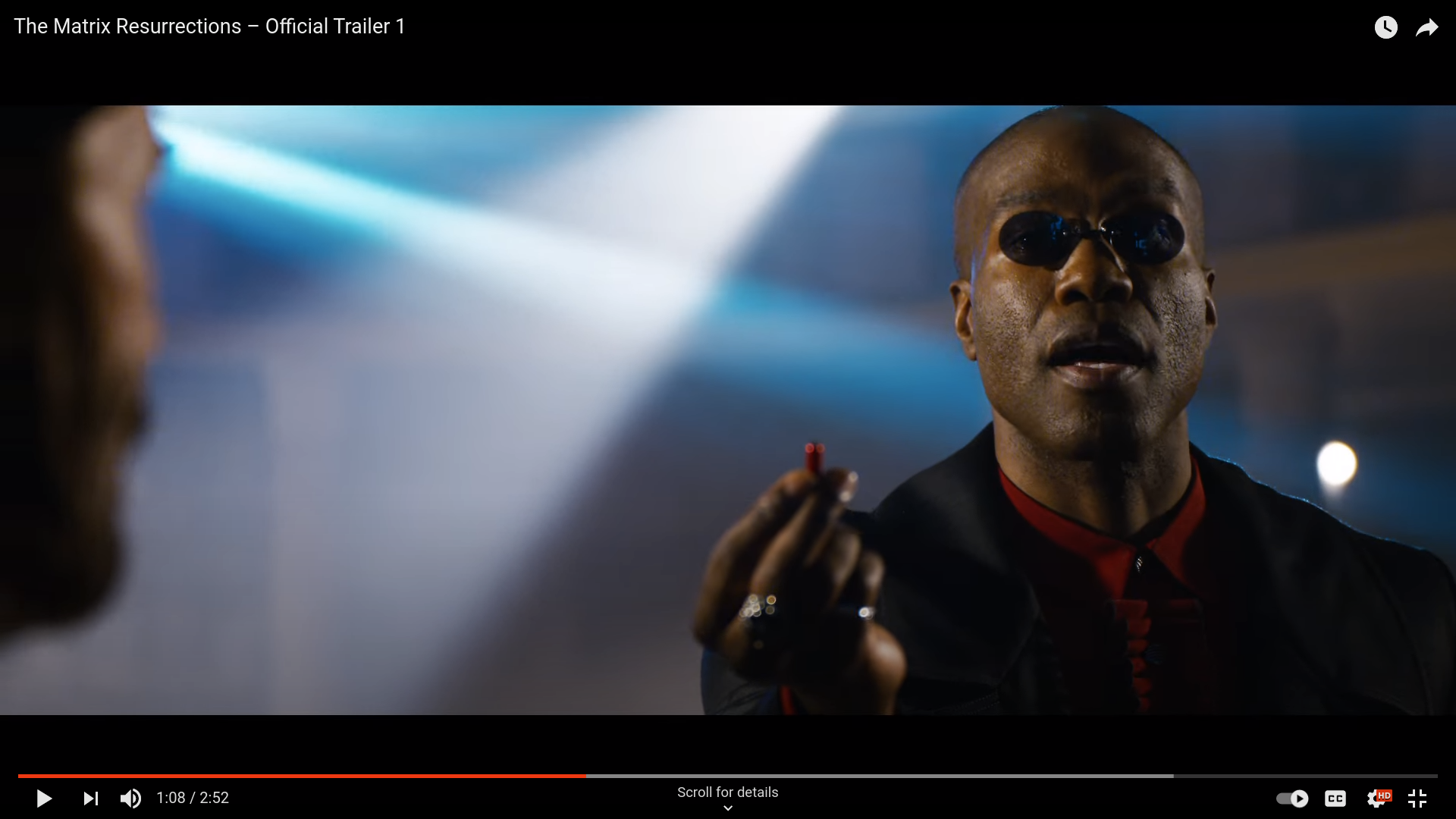 It's hardly a spoiler that Neo would choose to reject the current reality (the film would be really boring otherwise). Expect some subversion of expectations though, he may initially choose the blue pill or something.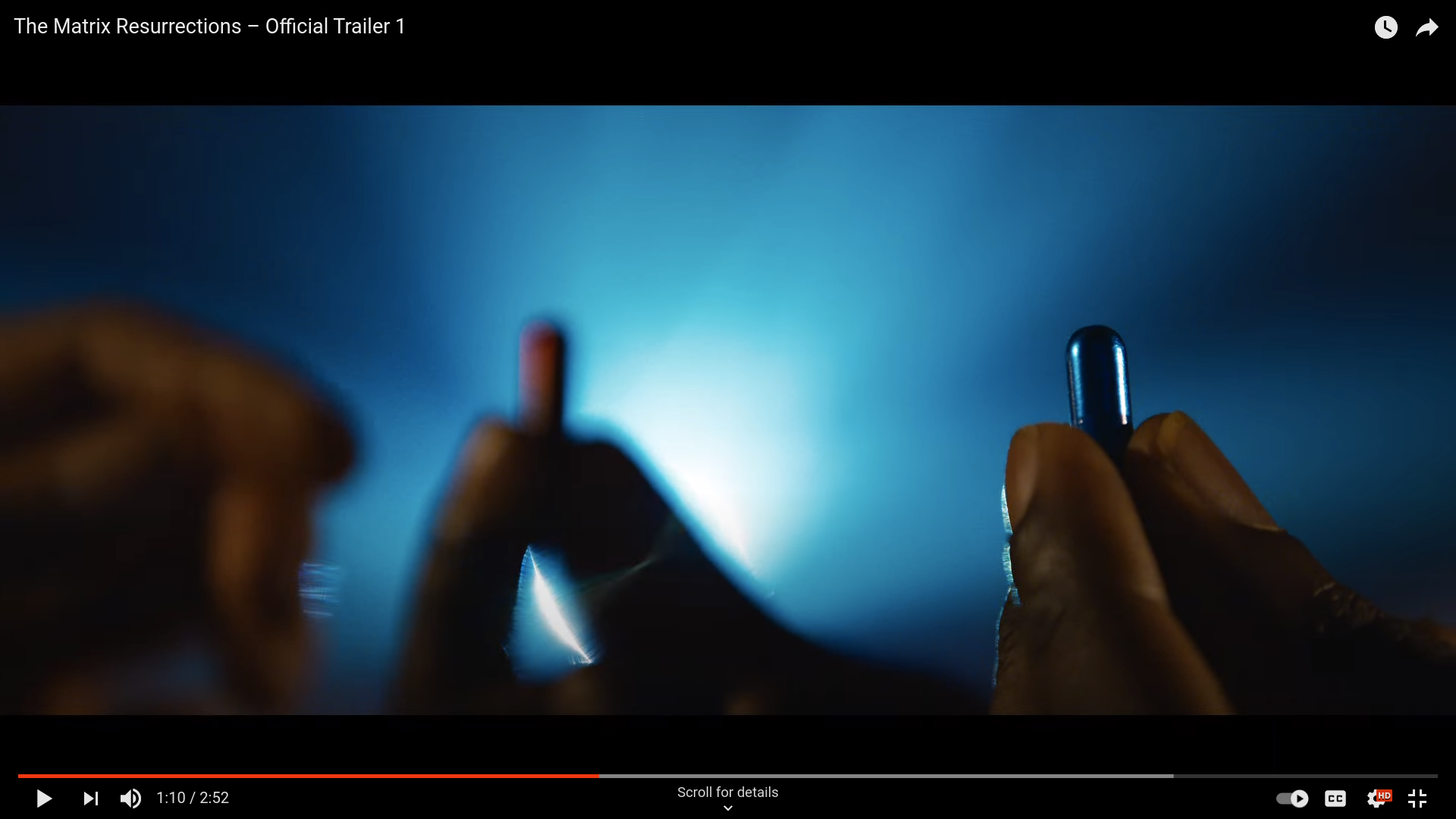 Trinity Source
Interestingly there appears to be a scene with Trinity with source mixed in with her face, like she's not real or something. I wouldn't be half surprised if the original her was killed and returned to the source - possibly being used as a system of control to keep Neo subdued in the Matrix.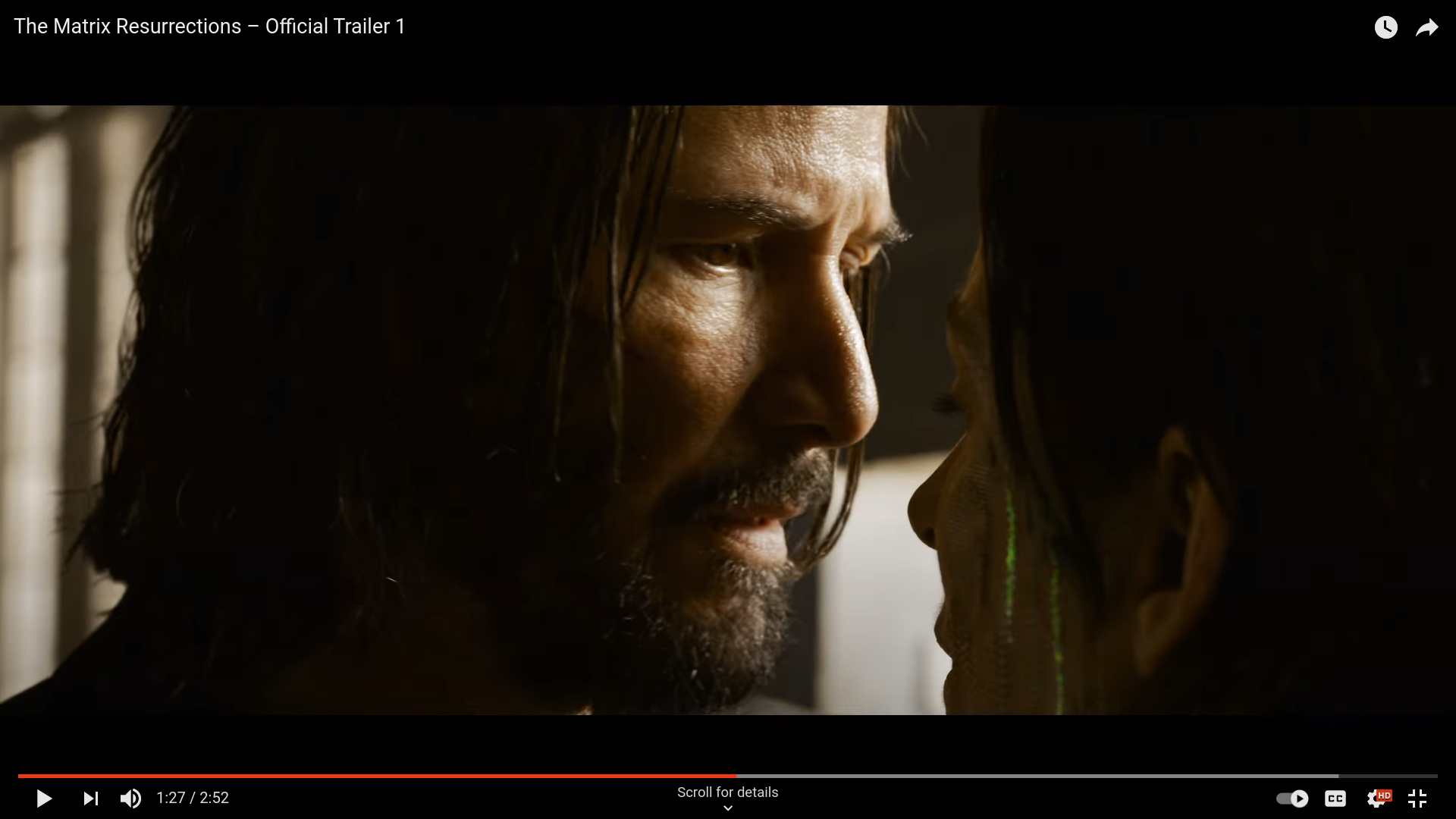 Either way, I really look forward to finding out what is going on here!
Human Farm
What's the Matrix if there isn't some humans being actively farmed?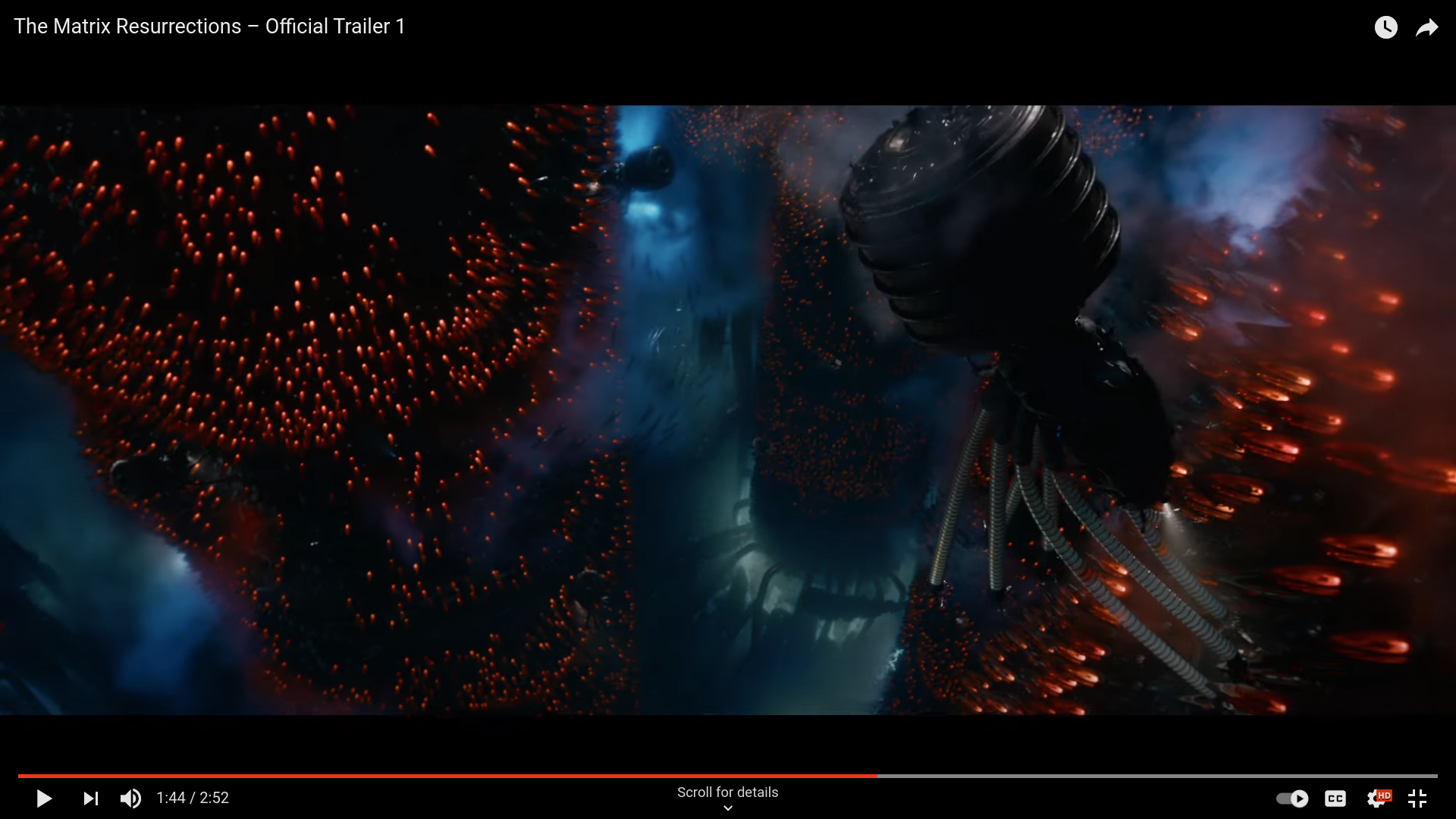 I think this supports the idea that Neo has been reinserted into the Matrix by the machines. Given that the peace agreement dictated that anybody who wanted to be released from the Matrix would be - does this mean the machines lied, or that the peace agreement was broken?
Ships
Hopefully we get to see some more ships! The ships were possibly one of my favourite places in the entire Matrix films.
EDIT: I was so distracted by the ships initially that I missed the fact that this is possibly the destroyed remains of Zion - the last human city! If so, that's absolutely awesome! Tat would have massive ramifications if so!
Agents
It appears the agents are not the original actors, but that's okay: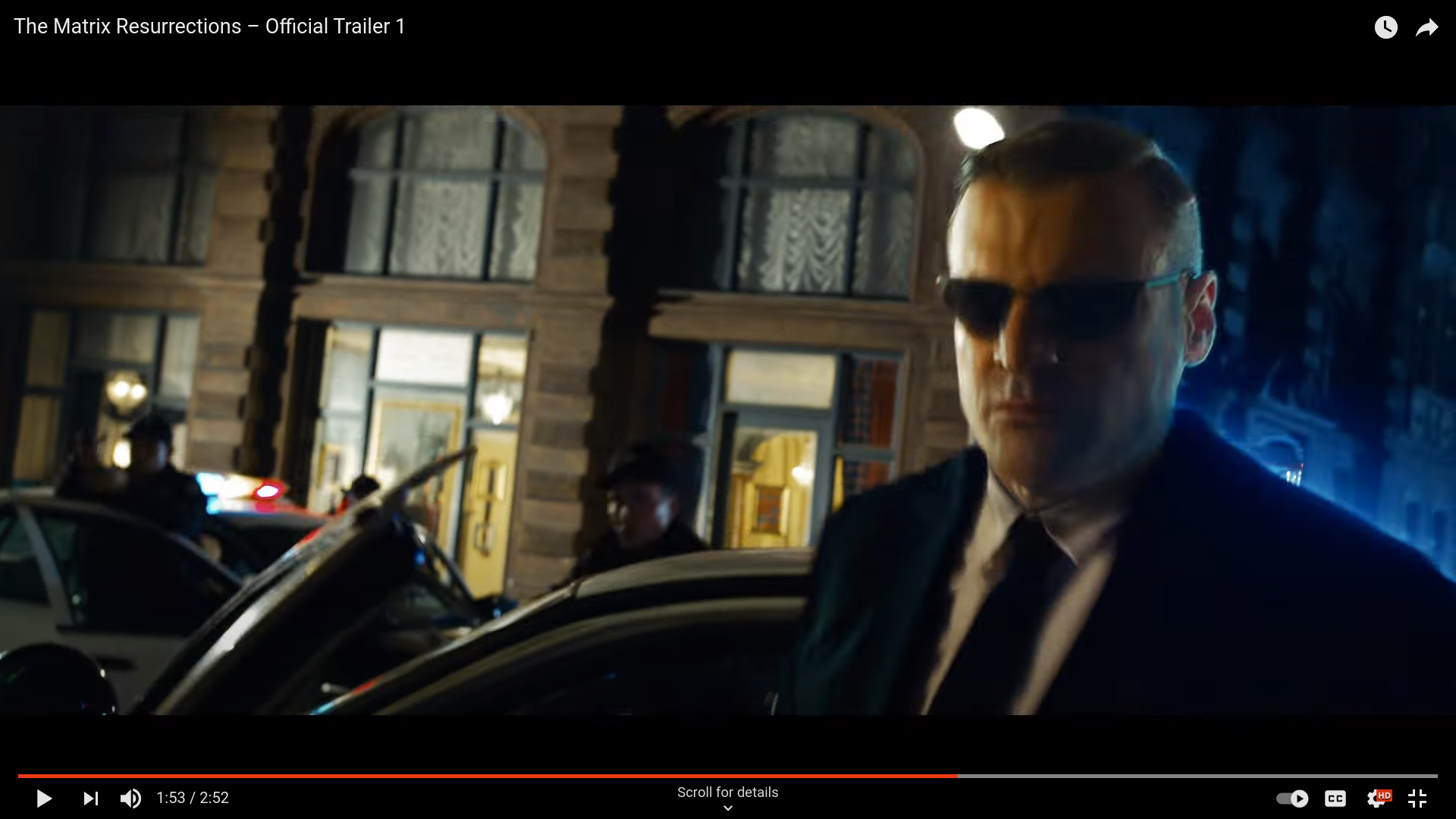 I imagine they can simply say that they have been upgraded or modified. What is interesting is the way they change is completely different, I'm not actually a fan of that.
Trinity Insertion
So from this scene we can see that at least some form of Trinity appears to be alive and also reinserted into the Matrix: